It's far better to be kind and make friends – as Elizabeth Allen finds out in this hugely fun younger series.
Spoiled Elizabeth is sent away to boarding school and makes up her mind to be the naughtiest pupil there's ever been.
But in a school as special as Whyteleafe, she discovers it might actually be more fun to join in …
The Naughtiest Girl covers are by illustrator Kate Hindley.
The Naughtiest Girl in the School
Follow Elizabeth Allen in book one as she arrives for her first year at boarding school.
Elizabeth is spoilt and selfish and has made up her mind to be the naughtiest pupil there's ever been!
But soon she finds out that being bad isn't as simple as it seems ...
The Naughtiest Girl Again
In book two, Elizabeth Allen - naughtiest girl in the school - is trying to be good. But someone wants to spoil things for her.
And they're not going to let her forget how she got her nickname!
The Naughtiest Girl is a Monitor
In book three, Elizabeth Allen is delighted to be chosen to be a school monitor. But she soon finds out just what a responsible job it is. The harder she tries, the worse she behaves!
Will the naughtiest girl in the school EVER learn to be good?
Here's The Naughtiest Girl
In book four, there's a new boy in Elizabeth's class. He's sulky and grumpy and he'll do anything to show Elizabeth up. She means to keep her temper, but it's not so easy for someone who was once the naughtiest girl in the school ...
The Naughtiest Girl Keeps A Secret
In book five, Elizabeth intends never to be naughty again. But when John entrusts her with his secret, the naughtiest girl finds herself in deeper trouble than ever ...
The Naughtiest Girl Helps A Friend
In book six, the school goes camping and the Naughtiest Girl means to be well-behaved. But horrible Arabella is sleeping in the very same tent and busy stirring up trouble for Elizabeth's best friend, Joan ...
The Naughtiest Girl Saves The Day
In book seven, the school's strawberry plants are vandalised and a lost blazer button at the scene of the crime leads straight to the Naughtiest Girl.
It is hers, but how did it get there - and why would anyone want to pin the blame on Elizabeth?
Well Done, The Naughtiest Girl
In book eight, Elizabeth is desperate to play the piano in the end of school concert. Elizabeth knows Arabella is very good - so she spends every waking minute practising. But exams are looming, and piano practice leaves Elizabeth with no time to revise.
Will the Naughtiest Girl have to stay in First Form another year?
The Naughtiest Girl Wants To Win
In book nine, Elizabeth is furious when Kerry, new girl and young actress, becomes head girl over the obvious choice, her friend Emma. Elizabeth is convinced that all the seniors have been swayed by Kerry's acting skills.
How will Elizabeth prove that the real Kerry is a nasty piece of work without looking like the troublemaker herself?
The Naughtiest Girl Marches On
In book ten, Elizabeth is overjoyed to be appointed monitor again. But one of the second form boys is turning all the other boys against her, starting with a nasty note in her desk and ending with a false tip-off about a midnight pillow fight in the boys' dormitory.
Can she find out who has a grudge against her - and why?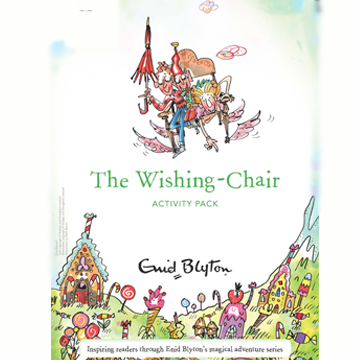 This brand new Wishing-Chair activity pack is specially designed for libraries, but is lots of fun for schools and families at home, too. Download the full printable resources here....
read more